Not Wanted Dead or Alive: Asian Longhorned Beetle
Please join the Ashby Conservation Commission on Thursday September 30th @ 7pm at the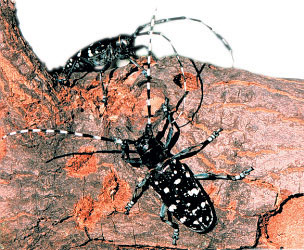 Ashby Free Public Library for a presentation on the Asian Longhorned Beetle.
This pest attacks a wide variety of hardwood trees, particularly maples, and is considered a serious threat to the nursery, lumber, wood products, maple syrup, and tourism industries in our state.
If it became established over a large area, it could also significantly disrupt the forest ecosystem.
Come learn to distinguish the beetle from "look-alikes" and recognize signs of it presence.
There will be a presentation from the Forest Pest Outreach & Survey Project and specimens to view from the Department of Conservation and Recreation.